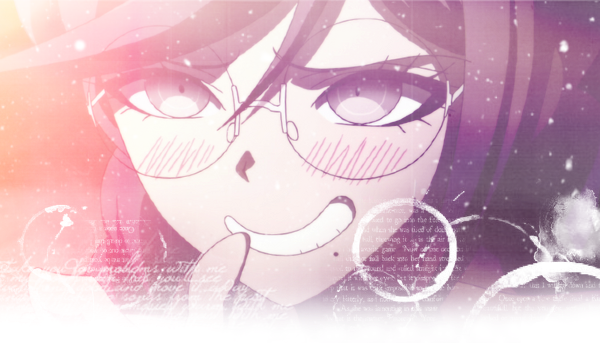 ---
PROFILE
basic info about toko.
name & etmyology: toko fukawa's name is, you guessed it, toko fukawa. it can also be romanized as touko fukawa. the kanji characters in her first name are winter (to) and child(ko). meanwhile the ones for her surname are rotten (fu) and river (kawa).
gender: female, presumed to be cisgender.
age & birthdate: toko is presumed to be around 18 or 19 years old in trigger happy havoc, though she perceives herself as a first year due to memory loss. she was born on march 3rd, 1993, which is coincidentally girl's day in japan. this would make her a pisces.
blood type: people with blood type O tend to be confident, self-determined, and ambitious, but also unpredictable, spiteful, and self-centered. i assume they weren't necessarily trying to make her personality match with her blood type.
education: riverbank girl's high school and hope's peak academy.
occupation: an author as well as an intern at the future foundation.
likes: writing, romance novels, and byakuya togami.
dislikes: light novels, manga, blood, bathing, and the dark.*
*it's important to note that the last three "dislikes" are phobias of hers.
---